Next Generation Renewable Energy Crypto-Coin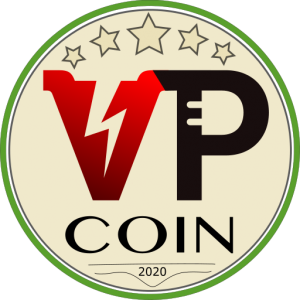 The 21st century saw improvements which changed the way we live, communicate and think and the technological advances which emerged were the driving force (behind) these changes. Cryptocurrencies grew in popularity and they created a pool of ideas which have sparked the interest of many. The technological institution of the cryptocurrencies could and will end up changing the way we exchange values in our 21st century world. This is why the VoltpotCoin (VPC), due to its unique and innovative concept, works to increase the efficiency of  how renewable energy is traded between us.
There are many challenges which the world is faced with: global warming, Covid-19 pandemic, natural disasters and ever evolving environmental changes. This has brought us to one conclusion. We have to change something in our way of living. We can start by looking at the way we produce and use our natural renewable sources of energy. As population is set to increase exponentially over the next few decades, we must take action to adapt and let nature work to sustain us. To tackle the threat which comes from this, humanity has the important task to change the way raw materials are produced and invest in a new way to generate electric power though solar, wind, water or geothermal energy.
From a statistical point of view, the renewable energy market will rapidly change in the next 20 years. In the last 15 years, global research projects have seen how the concept of renewable energy has been evolving, as seen in the EUREC Renewable Energy Projects Catalogue.
It is not just about how we buy and sell, it can also be about the solar energy becoming a valuable asset for each and every one of us.  
VOLTPOT® ltd. was established in 2016 and its main goal is to create a platform where individuals and businesses interested in the sustainability of renewable energy and solar electrification are able to connect and invest in the future of these exciting opportunistic endeavours.
In 2018 VOLTPOT® ltd. introduced the system of Volt-Points which was integrated in its website. One of its main features was to give people who produce their own energy (eg. Solar panels) an opportunity to share their excess energy with other members of the society (eg. electric car drivers). However, it's been considered that a centralized point-based system (Volt-Point) would not satisfy VOLTPOT® vision. Therefore a decentralized solution has been considered: blockchain tehnology.
By virtue of advantages offered, blockchains could potentially provide solutions across the energy trilemma: they could reduce costs by optimising energy processes, improve energy security in terms of cybersecurity, but also act as a supporting technology that could improve security of supply, and finally promote sustainability by facilitating renewable generation and low-carbon solutions.
Blockchain technologies can have various applications related to the operations and business processes of energy companies, one of them is sharing of resources between multiple users, such as sharing EV charging infrastructure. [1]
Others posibilities are: billing, sales and marketing, trading and markets, automation, smart grid applications and data transfer, grid management security and identity management, competition, transparency. [1] [2] [3]
Since blockchains are clearly changing the world, in 2020, VOLTPOT® ltd launched the VoltPotCoin. A few weeks after the launch of our blockchain in August 2020, VoltPotCoin has been filed online by coinmarketcap as a dedicated blockchain-based cryptocurrency in the energy field.
By using a blockchain, you would see the removal of bankers, venture capitalist and very few individuals controlling most of the capital which would flow from the individual investor. Blockchains allows for us to create a global, open platform where every individual has the equal opportunity to engage and share the values which they create.
Renewable Energy Challenges
Recent studies have predicted that by 2050 it is possible to generate almost all necessary electricity from renewable energy sources.
There is a growing attractiveness about using renewable energy sources since sustainability is becoming the ethical norm however without serious input from all areas of the industries, there will be many negative externalities which could arise.
Some of the things which have to be taken into account include the information technology throughout Europe and the interconnectedness of states, the availability of wind and solar power on different and spatial scales and the adequate analysis of required storage capacities. One other important factor is the willingness of every member of the society to take part  into making this possible. [4]
The increase in renewable power generation causes an overall decrease in conventional power generation from large-scale and highly predictable fossil power plants. Aside from market-based provision of active power schedules, these power plants are crucial for the provision of short-term automatic ancillary services such as frequency and voltage control. Substituting these plants for renewable generation units requires the latter to be capable of providing these ancillary services in order to guarantee a reliable and stable power supply.
Often consumers are willing to pay a premium for buying green energy, however currently there is no guarantee about the origin of energy purchased and most likely the energy used by end consumer is still sourced by the closest fossil-fuel power plant.
What Does VoltPotCoin Seek To Achieve?
Just as science is able to allow humanity to tackle the crisis of the Covid-19, technology, alongside the green industrial policy which will take place, will be able to transform lives. As countries around the world take decisive actions in order to end the sales of new petrol and diesel cars and instead incentivise the use of cars which have a zero carbon emissions capability from 2025 onward, it will revolutionize the way we generate and use energy.

Through the Covid-19 pandemic, where uncertainty looms, we must not let the response we have been having to the climate crisis go overlooked. 2019 stood as another record breaking year as installed renewable power capacity was more than 200 gigawatts/hour according to IRENA report in 2020 regarding renewable power generation costs in 2019. A significant proportion of this was due to the solar photo-voltaics installed, which saw their highest increase in one year. Just like previous years, government policy was the instigator of both the growth and decline of the renewable energy market. [5]
Meanwhile the capacity began growing more and more with foreign and domestic investment continuing to spread and cover all corners of the world. Globalization allowed many countries to get involved and sign treaties which vowed their cooperation and support for increasing renewable power capacity and therefore becoming more allocatively efficient. [6]
Despite big corporation and governmental bodies around the world having an input into the way renewable energy will be able to transform our lives, wouldn't it be interesting to be able to buy and sell the energy which we individually produce? 
We can do this through our solar panels, as the production of solar panels has increased 44% in the last year and they have become a way for people to generate their own energy, saving them a lot of money on energy bills since photo-voltaic solar panels are energy efficient. 
There is a huge potential advantage for the VOLTPOT® platform users as they are trading electric power with their mined cryptocurrencies (VPC). This is all whilst EV owners are able to charge their cars in the exchange for the VPCs. The owners would have obtained these VPCs either through mining it on their own accord or simply trading their electric solar power from their own car charger.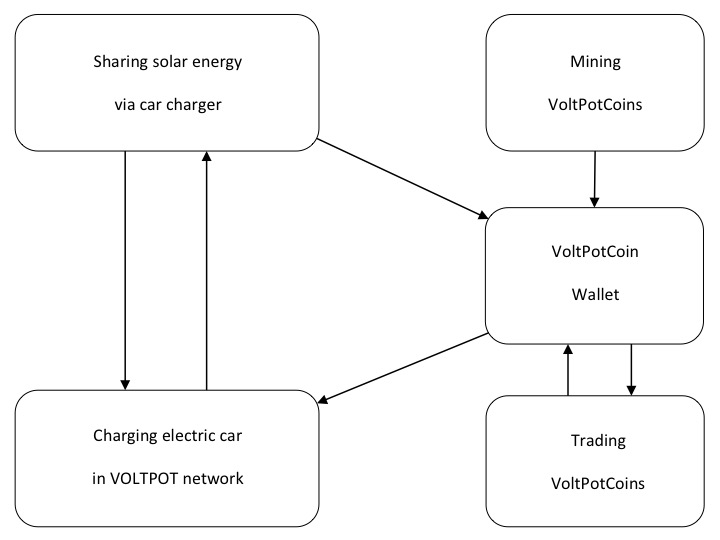 Therefore our trading system self balances itself so it becomes favorable to the energy supplier through the exchange they are making. This is why VOLTPOT® is the way forward: the innovation which the energy sector desperately desires.
How Would VoltPotCoin Help ?
Let's assume that you have solar panels installed at home and you choose to go on holiday and drive your electric vehicle. Since you are not in your home, you are not able to use most of the energy which your solar panels produce and hence the energy either goes to waste or is fed in a grid at a fraction of its real value.
However, if someone was to charge their electric car in front of your house while you were away, they would be able to transfer VPCs (VoltPotCoins) in exchange for using the energy generated by your solar panels. You can be away anywhere in the world, and still be able to use the VPCs to charge the electric car you are driving at the time.
In other terms, VPCs could work as a 'virtual battery' which allows you to benefit from the energy generated by your own solar panels…. even thousands of miles away.
VoltPotCoin's accessibility does not stop there and it extends to many other situations. The transformation of a "service" into "energy" can be aided through the VPC in many different ways.
An example can be if you are a business owner and you accept VPCs as a payment method for your services. You are able to put those VPCs towards charging your electric car if you wish. If your customer has produced the VPCs through his solar panels, then he would have paid for his services with energy produced by their own solar panels which had been transformed into VPCs.
This nice, easy and secure service would envision a new sustainable marketplace where VPCs can be earned and spent.
Extended Options coming with the individual and business VPC adoption:
VoltPotCoin does not only help individuals, but can also be echoed at a national level as it is a decentralized marketplace system which provides a cryptographically secure way of managing the digital assets which one creates.
Generally, it is well known that 10% of energy is lost when the DC current (produced by solar panels, wind turbines etc.) is converted into AC current (used by grids for electric energy transport). The same percentage applies when AC current is converted to DC current which is the conversion taking place when an electric vehicle is changed by using grid energy.
These are just some examples of how energy conversion can inflict performance and there is a lot of energy which is lost until it reaches the consumer, making it less efficient and not maximized in its environmental sustainability.
VOLTPOT® platform and VoltPotCoin, together, could compensate at some point, for the current lack of DC to DC car charging solutions (as presented within the today's home solar systems). These intelligent car charging devices would help the user become greener in their use of electricity.
There are many interested groups in blockchain technology including industry stakeholders and many energy decision makers as they see the benefits and opportunities which it brings them. Some of these applications include:
1) metering/billing and security;
2) cryptocurrencies, tokens and investment;
3) decentralized energy trading;
4) green certificates and carbon trading;
5) grid management;
6) IoT, smart devices, automation and asset management;
7) electric e-mobility;
8) and general purpose initiatives and consortia. [1]
VoltPotCoin's uniqueness, as a blockchain solution, resides in combining three of the above mentioned domains and in near future the forth one might be added, once the hardware development will make it price attainable.
VoltPotCoin therefore has the incentive to be implemented. It's already backed up by a platform (VOLTPOT®) which is aimed to reduce the energy inefficient conversions and aims to decrease the risk of national grids not being able to meet the demand of energy. Since the number of electric vehicles on the road is likely to significantly increase in the near future, it will be even more attractive for our world to be able to reduce carbon emissions and maximize energy generation from renewable sources.
VoltPotCoin's vision and implementation will make it possible to use renewable energy, which will not only benefit individuals and small business owners, but also the national electrical grids.
Disclaimer
VOLTPOT® ltd. is not responsible for any losses, damages or claims arising from events falling within the scope of the following six categories: (a) Mistakes made by the user of any Voltpotcoin-related software or service, e.g., forgotten passwords, payments sent to wrong Voltpotcoin wallet / addresses, and accidental deletion of wallets. (b) Software problems of the VOLTPOT® ltd. Website(s) and/or any Voltpotcoin-related software or service, e.g., corrupted wallet file, incorrectly constructed transactions, unsafe cryptographic libraries, malware affecting the Website(s) and/or any Voltpotcoin-related software or service. (c) Technical failures in the hardware of the user of any Voltpotcoin-related software or service, e.g., data loss due to a faulty or damaged storage device. (d) Security problems experienced by the user of any Voltpotcoin-related software or service, e.g., unauthorised access to users' wallets and/or accounts. (e) Actions or inactions of third parties and/or events experienced by third parties, e.g., bankruptcy of service providers, information security attacks on service providers, and fraud conducted by third parties. (f) Engaging in transactions for VPC is not engaging in an investment contract on the VOLTPOT® platform. The platform itself has been established 5 years prior to VPC launching and has its own development agents. So the transactions based on VPC are just an alternative payment method accepted by VOLTPOT® platform. VPC is by definition a free cryptocurrency market and it is not a security or an investment contractual agreement. VOLTPOT® platform does not abide to guarantee any yearly profit to the consumer. Users which have executed their VPC mining at their own will, with their own hardware, are therefore free to trade the cryptocurrency online, against Fiat currencies or other cryptocurrencies, according to the each crypto exchange rates and the market rules, with no further accustoms and obligations for VOLTPOT® ltd. Likewise, users that have mined or transacted VPC on crypto exchanges market, would be able to purchase services or to spend VPC's on the VOLTPOT® network without considering it as an investment contract.
As an early VPC holder, there are few things to be considered. First of all there is no associated ICO (Initial Coin Offering). Therefore there is no major VPC holder, which after all is a benefit for everyone as it equates the opportunities.
This project was fairly launched, without ICO funding and will be supported, voluntarely, through personal resources of the people interested in this project. Hence, everyone being 18 years old or more, is able to generate and/or trade VoltPotCoin on exchanges for other crypto-currencies or for conventional fiat money.
Most of the other altcoins have become valueless, and it remains to be seen how the system will sustain itself after cash runs out from many of the major ICOs.
An increasing number of enterprises are using ICO as an instrument to attract investment and raise funding, while these digital assets and the technology behind them may present a new and efficient means for carrying out financial transactions, they also bring increased risk of fraud and manipulation because the markets for these assets are less regulated than traditional capital markets. [7]
But for VoltPotCoin, the most basic principle of cryptocurrency has been kept, everyone should mine it, as long as they believe in the principles which come to it. VoltPotCoin holds a fundamental principle regarding rewards, since the main business platform (VOLTPOT®) was launched 5 years ago.
Since its launching in August 2020, every 18 months (aproximately), there will be a halving in the rewards of VPC which take place as a result of the mining process.
Furthermore, from the very beginning, when VPC was publicly launched, VPC has been mined by dozens of miners from all over the world. They are either Voltpot followers on the main social media platforms or maybe they just saw VoltPotCoin as a future interesting cryptocurrency on www.voltpot.org .
We can only estimate that the VPC price on the exchange markets, after listing, will possibly quadruple within the following 12-24 months. This would therefore appeal to the long term investors as they will see their capital gains increase over time. Speculative actions on exchange markets are inevitable, but we would like for VPC to get its value mainly from the domestic renewable excess energy producers. We would like to see the VPC "virtual battery" characteristic preserved.
Since cryptocurrencies are becoming more popular with consumers, there is an incentive for one to understand what the unique characteristics of VoltPotCoin are so they start mining the crypto currency straight away.
Moreover, there are many potential gains in the transparency and decentralized system which empowers customers to join the decarbonisation of the planet and be hand in hand with the world for a more efficient and cost effective future.
Therefore, we can anticipate a rising interest for VPC in the next 5 years which could result in many times folded value gain.
VoltPotCoin as Crypto-Currency
Blockchains or distributed ledger technologies (DLT), were primarily designed to facilitate distributed transactions by removing central management.

Several reports by the UK Government state that blockchains will have the capacity to "reform our financial markets, supply chains consumer and business-to-business services, and publicly held registers". [8] The redefinition of the digital trust, especially due to the pandemic is vital and cryptocurrencies will be the future of our exchanges as it removes the intermediaries. This ends up forming a new paradigm of management and it has the potential to establish a new means of governance, especially as it creates new positions of authority where one is controlled by the trust of his clients. [9] New cryptocurrencies are always emerging in the market place and they have become one of the most popular blockchains due to their well understood purpose and usage.
VoltPotCoin is different as it is designed specifically for the application of energy and therefore has a lot of advantages. This is significant, as VPC provides a new entry to the market, where the aim is to become sustainable in the cryptocurrencies sector.
The VPC mining software has a PoS mechanism and needs a specific commands from the user. From initiating the coin minting process to making transactions, the user has to take certain actions. VPC can't be generated or transferred automatically, without the user's initiative.
There are many general considerations which one may take into account when deciding to use any cryptocurrency. As mentioned previously, a cryptocurrency is a digital asset which works as a medium of exchange when each individual person has their own coin ownership record which are stored in a ledger existing in a form of computerised database. There is very strong security regarding crypto currency due to the string cryptography which secures transaction records to control the creation of additional coins and to verify your own transferring of coins and their ownership.
Cryptocurrencies are all digital and therefore do not exist in a physical form. This typical blockchain technology uses a decentralised system, which makes an individual less attached to a central banking system and instead makes them independent and less likely to experience an external economic shock. People everywhere can transact by trusting each other through the blockchain technology which revolutionises how digital assets are exchanged due to this global chain which is formed by the miners.
When implemented with decentralised control, each cryptocurrency works though the distributed ledger technology, typically like mentioned above a blockchain, which serves as a public financial transaction database. The blockchains which are created around the world end up using some of the highest level of encryption which therefore class blockchain as platforms of innovation and value creation.
The number of VOLTPOT® platform members are expected to increase exponentially as they will realise the advantages. There are three main ways which this may occur: transaction with Voltpotcoins for the electricity given from theirs car chargers, service-to-energy and energy-to-service conversions and lastly, purely the VPC mining.
Due to the blockchain technology, the last two points can be combined in a very easy way which may give many opportunities.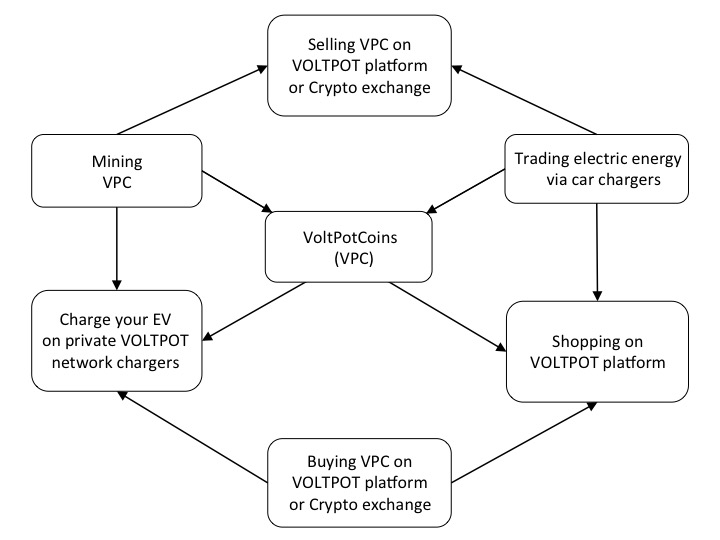 The mining process can be quite resourceful in certain situations, while in the near future, the new hardware of smart car chargers can use the IoT for passive mining. Therefore one can say that the VPC blockchain is not just a cryptocurrency backed by a sustainable platform, but it is part of the platform itself.
Based on user preferences and willingness to pay, autonomous trading agents forming an integral part of all smart devices, can decide optimal bidding strategies to trade energy through the platform. Smart devices need to combine data from the distributed marketplace with traded flows of electricity. Devices would also need the capability to connect to each other and to have some computational functionality, such as Raspberry Pi and/or a Linux-based operating system, having data storage capability to locally store the ledger. [10]
There are many economic shocks which affect the economy and inflation is the result of them. In the near future, from what we can see from the pandemic, inflation will become inevitable, consumers will want to have a currency which is not affected by inflation and cryptocurrency will take this place. Big-tech companies are already planning the release of payment cards directly to consumers, making it even easier for people to access and buy. These cards would be able to hold and exchange traditional Fiat currencies and cryptocurrencies. Consumers can instantly convert their cryptocurrencies into traditional Fiat currency which can be spent anywhere cards are accepted around the world. This makes it inherently easier for consumers to access and use the cryptocurrencies in their every day lives. [11]
Technical Data About VoltPotCoin
VoltPotCoin was initially built as a lite version of Bitcoin using Scrypt as a proof-of-work (PoW) algorithm. This algorithm is not environment friendly, requiring lots of energy and resources for the mining process.
Hence in June 2021, VoltPotCoin has moved to a proof-of-stake (PoS) algorithm which requires far less resources and allows faster transactions.
– 60 seconds block target
– 173 transactions per second (TPS)
– masternode support ( 20.000 VPC collateral per masternode )
– block rewards: 6 VPC for staker and 4 VPC for masternodes
– budget rewards: 1 VPC/block ( Max 8640 VPC per cycle, allocated only if proposals were voted in )
– Transaction fees spent on each transaction are burned from the supply, creating a deflationary effect with increased transactions and use
– The  VoltPotCoin supply ecosystem ebbs and flows with transaction volume, based on emission rate and fee burnino
Next Decade of Official Energy Forecasting
Being a solar panel homeowner brings 4 main advantages such as, sending energy into the maingrid (with the latest government incentive, the reward is getting smaller), to store the generated excess electricity in a battery which can be used over night, to pre heat your hot water, and not the least, to have power independence (smarthomes priority).
Storing electricity in a battery can be quite an expensive investment which may become advantageous over time. This is where VOLTPOT® platform philosophy comes to help, where a solar homeowner has a lot of daytime excess electricity, selling it remotely directly to an electric car vehicle user.
Therefore, VoltPotCoin (implemented within the VOLTPOT® platform) could reduce the inefficiency of transferring energy and the ability to buy and sell their excess energy with other consumers directly. With the right application, one can use their own devices to autonomously buy and sell energy. This takes place at the most optimal times of day to maximise their efficiency in a real-time context which was able to monitor and analyse the solar power efficiency. This would allow one to use their high performance devices to complete and help with their profits. As technology progressed it has allowed the establishment of PV to flourish as a mainstream energy source and therefore allowed it to be controlled remotely by the solar panels which can be installed in one's own home. The excess energy which these would produce could see it being used for even a personal electric vehicle.
Requirements for future energy systems can be summarised by three key principles: decarbonisation, decentralisation and digitalisation, with a shift to empower consumers. [12]
The IEA electric vehicles report explores the outlook for electric mobility to 2030 through two scenarios: the Stated Policies Scenario, which incorporates existing government policies, and the Sustainable Development Scenario, which is fully compatible with the climate goals of the Paris Agreement. The Sustainable Development Scenario incorporates the targets of the EV30@30 Campaign to collectively reach a 30% market share for electric vehicles in all modes except two-wheeler by 2030. [13] It is estimated that in the EU alone, the transition towards a more sustainable and secure energy system would require an investment of €200 billion per year for generation, network and energy efficiency development. $ 2 trillion in electricity network upgrades will be required by 2030 in the US. [14]
A recent IEA study shows that most charging is done at home and work, yet deploying publicly accessible charging points is outpacing electric vehicle sales and their need of electric power. Obviously the infrastructure for electric-vehicle charging will continue to expand, as in 2020, there were about 7.3 million chargers worldwide, of which about 6.5 million were private, light-duty vehicle slow chargers in homes, multi-dwelling buildings and workplaces.
Electricity demand to serve EVs is expected to experience significant growth, by 2030 the light-duty vehicle fleet (cars and light commercial vehicles) represents the largest part of the fleet of electric four-wheelers, regardless the scenario. 
From this perspective, of increasing number of light commercial vehicles, the pressure on public fast charger will guide the EV owners to the other solution, to use an available private slow charger from VOLTPOT® network, payment been done by VoltPotCoins. In the New Policies Scenario, electricity demand from the global EV fleet is projected to reach almost 640 TWh in 2030, more than a ten-fold increase compared to 2018 levels (58 TWh). Convenience, cost-effectiveness and a variety of support policies (such as preferential rates, equipment purchase incentives, and rebates) are the main drivers for the prevalence of private charging. [13]
Observing IEA forecast for LDV and two/three wheeler electricity demand from private slow charging and residential solar power, a similar trend can be observed, the huge difference is the scale, the demand is 1000 times higher. Therefore, this may be compensated by fast and slow public car charger network, and this won't be available without big investments and time.
Electricity demand projected suggests that EVs are going to be much more relevant for power systems than they have been in the past. With uncontrolled charging, EVs could drive incremental needs for peak power generation and transmission capacity. Understanding the extent to which power systems can be impacted depends on total annual electricity demand EVs, the impact of daily charging patterns and the location power levels used for charging. As a result of lock-downs in 2020, rapid and continuous growth in EV sales has stalled, but so far electric car sales have been hit less hard than non-electric sales, and shared micro-mobility use has plummeted to near zero and operators have reduced or suspended services. [6]
The IEA is tracking emerging trends in using digital technology to enable greater energy efficiency gains, including active energy management systems (EMS), data-driven consumer engagement platforms, and new performance-based revenue models, in order to improve energy performance within specific sectors and end-uses, with the particularity of the wider energy system context (for example, in balancing supply and demand in modern electricity grids). Smart grids seems to be a solution, but smart grid investments still represent a small share of all investment in network infrastructure and despite the initial enthusiastic response to smart grids, many signs now point to a slowdown. At the end-user level, smart grids can enable demand flexibility and consumer participation in the energy system, including through demand response, EV charging and self-produced distributed generation and storage. [13] [14]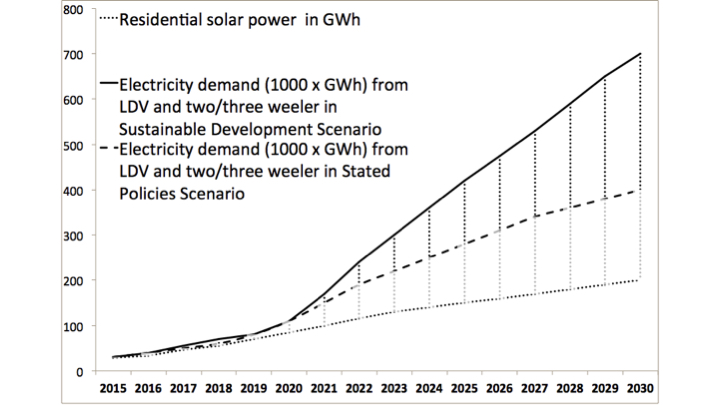 The smart grid vision for the EVs was a very important step to their introduction. The worry which consumers will have before buying a vehicle can be taken away simply, and VOLTPOT® concept is here to reassure and take some of that stress away by adjusting how much power is consumed. The new system creates a new generation of prosumers who are able to therefore use the grids in order to charge their EVs which is the ideal. Coming back to locality and local power generation and consumption, the blockchains are able to enable this consumer orientated market places which enable the usage of this local energy. This is therefore a huge benefit as there is a deference of expensive network upgrades. Simultaneously, energy is still delivered through the physical grid, there is still much to be controlled as there needs to be a constant power system for its stability.  [15] [16]
This is where VOLTPOT® concept comes to help sorting out the problem, as the proposed model implies using the energy right on its generating spot, avoiding the need of using any type of (electrical) grid.
According to a recent report by Euroelectric, the physical exchange of electricity has so far inhibited larger adoption of blockchains in the energy sector, as opposed to applications in the finance sector. Blockchains are able to trace back and securely record the origins of the energy and how the energy itself is consumed. Due to this, it can be easier and safer to use blockchains in the sharing of resources such as community storage and the smart grids which we have previously mentioned. Early blockchain developers and miners thereby established how the digital platforms can, in a decentralized way, enable Peer-to-Peer energy trading. The IoT application to the solution and the local energy marketplaces are vital to the implementation of the system.  [17] [18]
We can also see the application of blockchains in other technologically advanced systems such as the smart home which also takes the sustainability factor into account. This digitalisation therefore makes the efficiency of the network, the consumers billing process and the innovation of energy use greatly improve. However, there were still concerns which the consumers had when there was a publicly recorded consumption of each household in a public ledger. The anonymity of an individual could have been a key issue, however, since there are many positive externalities out of using blockchain in IoT systems, there must be a new way to record and trace the consumption or savings of energy, so it aids both the sustainability of the home and the privacy of the consumer. An additional benefit is that low-value transactions can be made cost-efficient, while blockchains can ensure interoperability between transaction systems. [19] [20]
Since we can see a boom in the EV already together with the overload which grids have experienced during lockdowns, the main grid maintenance forecast is not looking in favor of becoming cost efficient. [21]
Policy makers will also need to send out appropriate signals for charging infrastructure and grid service businesses to enable viable business models to emerge and to facilitate smooth EV integration into power grid operations, however, this is a just positive prediction which the IEA has made and big steps are postponed because of political turmoil caused by pandemic. More comprehensive policies are critical to lay the foundation for a transition to electrification and to assuage stakeholder uncertainties. [22]
Poorly designed energy policies, and technologies that do not satisfy users' needs, lead to 'performance gaps' that are both energy and economically inefficient. [23]
The latest data on early-stage venture capital funding, which supplies valuable resources to high-risk emerging technologies, shows a 30% drop in activity for clean energy technology deals in the first half of 2020 compared with the same period in the two previous years and human capital investments in the clean energy space could depreciate. This is again a pandemic step-back, the same pandemic that hasn't affect tremendously EV market. [24]
As the next generations are becoming increasingly interested in green energy, as part of the green revolution, VoltPotCoin stands as a blockchain which ensures the interoperability between the transition systems and has been defined so far as a "virtual battery" which accelerates the usability of it.
This is what sets VoltPotCoin apart from other cryptocurrencies, which burn over $1M worth of electricity and hardware costs per day for running their consensus mechanisms. [25]
According to Bitcurrency calculator, which shows that Bitcoin could one day consume up to 60% of global electricity production, equivalent to 13,000 TWh powering 1.5 billion homes shows how there must be steps put in place which make cryptocurrencies sustainable and this is what VoltPotCoin does.
These types of energy-consuming cryptocurrencies, as has been proven by recent history, are not saving energy or time, but can lead to  high levels of market speculation and social media malicious behaviour. [26]
Voltpotcoin, as a crypto-currency backed up by VOLTPOT® platform and its users, is rising as a solution to the irrational and unrealistic ratio of EV electricity demand forecast and public charging points. Most of the EV users will be away during daylight when their residential solar panels are charging the grid and not the EV. This is why VOLTPOT® resembles as a revolutionary concept for the EV users. It will incentivise the sustainable production and usage of solar power and help reducing grids overloading in the same time.
Just as the value of a currency is defined by the actions which people and governments take every day in order to keep the economic going, cryptocurrencies themselves have the power to increase the value of the exchange rate as they have the potential to be used as a daily commodity for something which we will need – electric mobility. Our intrinsic value allows us to not be reduced to our instrumental value and therefore know that we must start taking actions which will help and aid our future while also maximizing our own welfare.
If one considers a pyramid of needs where mobility stands as the base, we must also consider the future of sustaining the pyramid which will be electric mobility that aids one person, family and generation to climb up the social mobility ladder itself as we increase our chances of survival. The beauty of this system is that the intrinsic value of the cryptocurrency will increase regardless of the technical aspect of the process and the  number of miners which join the network braked by script protocol but with the number of users and the trust which they have in VOLTPOT®. This followed Metcalfe's Law which shows that the value of a system is proportional to the square of the number of connected users of the system which emphasizes the need for the human intrinsic value as Kant has states which is something that underpins cryptocurrency and its efficiency. 
This is why you can imagine a world where you own cryptocurrency in your crypto wallet or crypto ledger which is not affected by inflation and instead has an interest of a few percents each month due to Voltpot self-sustainable business that's backing up Voltpotcoin cryptocurrency. The intention here is not to become rich overnight, but to be able to give the chance to every individual to be part of a green revolution, with an economical benefit on top of it. 
There is a certain level of hypocrisy in modern society when we are all talking about green industrial policies and electric mobility with solar panel energy as part of it, but there is no major solution to correlate all of them as a whole. This is not easy to achieve as it consumes our only possession which makes us equal – our time. If the amount of currency which we have in out bank accounts defines our free time, than many of us do not have any as the balance is negative. So we have the power to change this not through a socio-political-cultural revolution but through a minimal economic revolution where every individual has the power to generate value out of what action they decide to take in their participation in the green revolution. This is our new option: it is down to every single one of our intrinsic values to see if our future is worth it. 
Let's take for example a family with PV panels installed on their house and an average electric car; they may still not have free time. Despite the fact that they are happy to charge their car electrically and not pay for the traditional combustion methods there is one thing which this family can do to maximise their free time.
This is where VOLTPOT® comes in. A platform where regular people can interact with each other and with businesses of their interest. A platform where businesses can use dedicated tools to keep their customers engaged and happy. A platform where any Sun ray can be used to purchase a service or a product, and any sale can be turned into green energy, as VoltPotCoin is here to help. The biggest "virtual battery" in the World is now available for anyone to use.
Using the virtual battery as part of of our daily routine can substantially increase our income without having to change our lifestyle, job or stress level and as another benefit we get more free time. This is why increasing and listening to our intrinsic values allow us to lead a life which we are proud of and which does not negatively affect the opportunities which for the future generations.
This is us, using VOLTPOT®. This is us, building the future.
A generation of volunteers with mixed skills, from different fields of work, who got together because of their common goal: to use green energy on a planetary scale... more efficient
"Freedom" is a precious aspect for everyone of us. Many died over time trying to be free. I think this project can make people see that they could get more freedom, when it comes to the "energy" aspect of their lives.
"Many of life's failures are people who did not realize how close they were to success when they gave up." - Thomas Edison
VoltPotCoin project is the beginning of a new crypto-curency era, in relation to renewable energy. The project is simple to apply in everyday life and also poses as a practical application for the future of renewable energy.
If owing money means having less free time for our family, should we not try find a solution having more free time without necessarily struggling to spend less or earn more?
As soon as I heard about the ideas behind VoltPot, I knew I wanted to be involved in this project. It is dedicated to everyone that wants to be a part of the green energy change that we desperately need…
It's very pleasing to be involved in this Voltpot crypto coin project. The world is rapidly changing and renewable energy is at the forefront of this.
"Power is not an institution, and not a structure; neither is it a certain strength we are endowed with; it is the name that one attributes to a complex strategical situation in a particular society."- Michel Foucault